| | |
| --- | --- |
| | HOME > product > product information > AIR KNOCKER |
In pneumatic conveyance system Air Knocker is a very unique device to solve the problem of powder's sticking effect to Hopper, Silo and Cyclone etc. in transportation process.
How to work

- According to the characteristic of powder such sticking problem happens inevitably and then, Air Knocker is a very unique device/machine which works simple but solves the problem efficiently.

- Magnetic Piston equipped in Air Knocker gives shock (6~8 times per a min) to Hopper so it makes the flow of materials easy, the principle is knocking the outside of Hopper.
Namely compressed air blow hit the magnetic piston and down part of piston knocks the outside of Hopper..Such function prevent the cohesion and bridge rat hole phenomenon.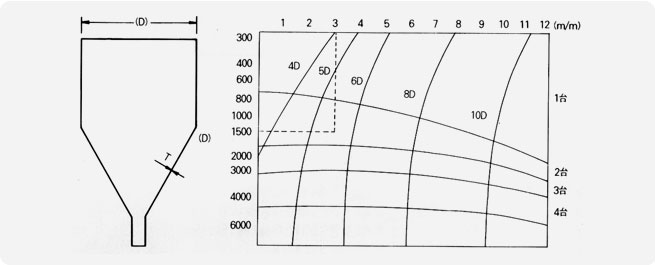 Selection of Machine/s
- As above diagram the capacity & units required are decided by diameter or diagonal (D) & thickness of steel (T) of Cone part on the basis of 60 repose angle of Hopper.

Ex) In case 1500Dia & 3T(mm) Hopper 6D°, 2sets are recommendable. However it can be adjusted a little according to the shape of Hopper and characteristic of materials in flow.
| | |
| --- | --- |
| DIMENSIONS | [unit : mm] |
| | | | | | | | | | | | |
| --- | --- | --- | --- | --- | --- | --- | --- | --- | --- | --- | --- |
| MODEL | φA | B | φC | φD | E | H | S | T | φT | R" | G" |
| YAK-4D | 95 | 12 | 95 | 10 | 12 | 164 | 9 | 60 | 34.1 | 1/8 | 1/8 |
| YAK-5D | 138 | 12 | 138 | 50 | 12 | 194 | 9 | 65 | 50.8 | 1/8 | 1/8 |
| YAK-6D | 138 | 14 | 138 | 60 | 14 | 208 | 14 | 65 | 50.8 | 1/8 | 1/4 |
| YAK-8D | 148 | 14 | 148 | 80 | 14 | 250 | 14 | 70 | 60.5 | 1/8 | 3/8 |
| YAK-10D | 208 | 16 | 208 | 100 | 16 | 312 | 16 | 75 | 76.3 | 1/4 | 1/2 |
| | | | | |
| --- | --- | --- | --- | --- |
| | used pressure | air consumption | shok power | weight |
| YAK-4D | 2.5 ~ 5 kg/㎤ | 0.08 ℓ/time | 2.15 kg/(㎧) | 4.5 kg |
| YAK-5D | 2.5 ~ 5 kg/㎤ | 0.16 ℓ/time | 5.2 kg/(㎧) | 10.2 kg |
| YAK-6D | 3.0 ~ 5 kg/㎤ | 0.22 ℓ/time | 7.4 kg/(㎧) | 13 kg |
| YAK-8D | 3.0 ~ 5 kg/㎤ | 0.45 ℓ/time | 16.4 kg/(㎧) | 19 kg |
| YAK-10D | 4.5 ~ 5 kg/㎤ | 1.01 ℓ/time | 30.0 kg/(㎧) | 37.5 kg |